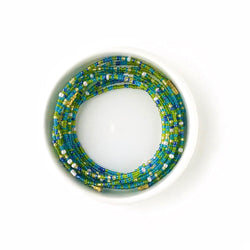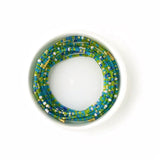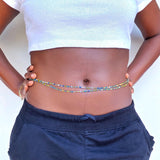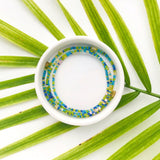 WHITE: divinity, purity, innocence, hope, peacefulness, celebration, peace
GOLD/ORANGE/YELLOW: royalty, wealth, status, glory, preciousness, fertility, joyfulness, vitality
BLACK: respect, secrecy, nobility, maturity, loss, spiritual energy, elegance, power
BLUE: wisdom, love, unity, prosperity, communion, humility, patience, purity
PINK: femininity, gentleness, sweetness, finesse, virtue, thoughtfulness, serenity, charm
GREEN: harvest, growth, renewal, life, fertility, youth, birth, harmony, vitality 
RED: healing, passion, spirituality, sacrifice, mother earth, activism, power
SILVER: renewal, healing, cleansing, serenity, purity, contentment
PURPLE: healing, femininity, mother earth, rebirth, abundance, intuition
*true to tradition, our color meanings mirror those of Ghanaian kente cloth versus chakra balancing
We know our waist beads can seem pricey, but please know that every order makes an impact and allows us to fulfill our mission to not only celebrate women, but uplift them as well. Here's how we do it:
Ethical production. We pay our local staff in Ghana upfront and allow them set their own prices for their creations to enable wages above market standard.
Empowerment Fund. We give away 10% of all sales (i.e. $2/line) to support women and girls across the African continent in living full and empowered lives.
Thank you for your support. Click to learn more about our social impact efforts.

Hello,
I want to personally thank you for making these beautiful waist beads. I am someone who is in recovery from multiple eating disorders that I have had throughout my life. The number on the scale has always been a trigger for me negative or positive. This year I have taken control of my eating disorder brain and have finally thrown out that scale because of the power and confidence your company has given me through waist beads. I am so incredibly thankful for them. Thank you for what you do.
Well made. arrived fast. Beautiful. Definitely rexommend
Absolutely love them! The colors are vibrant, the clasp is strong and they make me feel so good!
Love them! Great quality and easy sizing!
Beautiful, Durable Beads
I love Toffie Shop's waist beads. They are comfortable to wear and super durable. They are also very beautiful! The shipping was fairly quick. Overall, I will definitely be buying more!