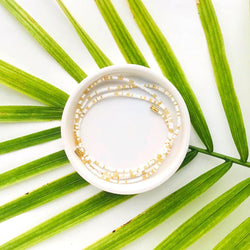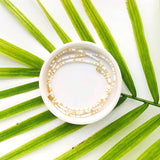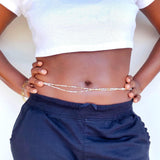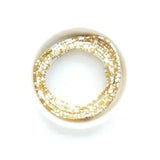 WHITE: divinity, purity, innocence, hope, peacefulness, celebration, peace
GOLD/ORANGE/YELLOW: royalty, wealth, status, glory, preciousness, fertility, joyfulness, vitality
BLACK: respect, secrecy, nobility, maturity, loss, spiritual energy, elegance, power
BLUE: wisdom, love, unity, prosperity, communion, humility, patience, purity
PINK: femininity, gentleness, sweetness, finesse, virtue, thoughtfulness, serenity, charm
GREEN: harvest, growth, renewal, life, fertility, youth, birth, harmony, vitality 
RED: healing, passion, spirituality, sacrifice, mother earth, activism, power
SILVER: renewal, healing, cleansing, serenity, purity, contentment
PURPLE: healing, femininity, mother earth, rebirth, abundance, intuition
*true to tradition, our color meanings mirror those of Ghanaian kente cloth versus chakra balancing
We know our waist beads can seem pricey, but please know that every order makes an impact and allows us to fulfill our mission to not only celebrate women, but uplift them as well. Here's how we do it:
Ethical production. We pay our local staff in Ghana upfront and allow them set their own prices for their creations to enable wages above market standard.
Empowerment Fund. We give away 10% of all sales (i.e. $2/line) to support women and girls across the African continent in living full and empowered lives.
Thank you for your support. Click to learn more about our social impact efforts.

aisha
love it. good quality but a little bit big
Product
I only received one of the 2 I bought
I love them
I ordered 3 lines and they're all beautiful. One fits at my natural waist (size 14) and the other two (size 12) are weight loss goals. The beads themselves are gorgeous and the closures screw together so they're secure and comfortable.